MEDICAL INTRO
BOOKS ON OLD MEDICAL TREATMENTS AND REMEDIES
THE PRACTICAL
HOME PHYSICIAN AND ENCYCLOPEDIA OF MEDICINE The biggy of the late 1800's. Clearly shows the massive inroads in medical science and the treatment of disease.
ALCOHOL AND THE HUMAN BODY In fact alcohol was known to be a poison, and considered quite dangerous. Something modern medicine now agrees with. This was known circa 1907. A very impressive scientific book on the subject.
DISEASES OF THE SKIN is a massive book on skin diseases from 1914. Don't be feint hearted though, it's loaded with photos that I found disturbing.
Part of SAVORY'S COMPENDIUM OF DOMESTIC MEDICINE:

and please share with your online friends.



CLASSIFICATION

Probably in no field of medicine has the proper and rational classi­
fication of diseases been fraught with so much difficulty as in that of
dermatology. In the earliest period, with knowledge lacking both
as to the seat and character of the histologic changes and the nature
of etiologic factors, it was natural that the attempts should have been
based upon external appearances or crude anatomic forms. Thus
arose the classification of Willan, which was a development on the lines
previously suggested by Plenck, and inasmuch as in this plan papular
eruptions were placed in one group, vesicular eruptions in another, and
so on, it had some advantages for diagnostic study, and has even yet
much to commend it. Although it had the advantage of simplicity,
it linked together totally dissimilar diseases, and gave no intimation of
the pathologic process and the cause of the malady, and therefore no
hint as to therapeutic management.

Alibert endeavored to build up a classification upon a somewhat
similar but broader basis, according to the clinical character and in­
herent natural affinities of the various diseases, but, owing to the many
contradictions necessarily entailed in its elaboration, it did not gain
universal acceptance. The French have, as a rule, always favored the
emphasizing of the constitutional etiologic factors, as displayed in
Bazin's classification, but the weakness of such a foundation is the
assumption of data of cause and effect that in great measure are purely
hypothetical. Nor did Erasmus Wilson's scheme, grounded essentially
upon the anatomic structure of the skin, meet with general favor.

The system that has been received with the greatest support is
that elaborated by Rokitansky and Hebra, who, with the pathologic
knowledge of the former and the pathologic knowledge and clinical
experience of the latter, formulated a classification, based principally
upon pathologic histology, and yet with some, although minor, reference
to etiology, anatomy, and physiology. In following this plan, however,
certain inconsistencies are evolved, but much less strikingly at the time
of its adoption than at the present day. Other praiseworthy attempts,
displaying much thought, dividing the diseases into natural classes and
subdivisions, based, for the most part, primarily upon the general
pathologic factors,—using the term pathologic in its broadest sense,—
have been made by Auspitz and Bronson,1 and although their scientific
elaborations appeal to the trained dermatologic mind, that promulgated
by Hebra would seem to be less complex and to form a better working
basis for teaching and study.

1Bronson, Jour. Cutan. Dis., 1887, pp. 371 and 427; also gives an analysis of
Auspitz's classification in the same publication, 1884, PP. 161 and 202.

136
---
CLASSIFICATION
137
Professor Duhring,1 who, in his former treatise, adopted Hebra's
system, with some slight modification, recently, urged, doubtless, by the
changing views in late years regarding the causes of disease, still further
modified it by more or less completely eliminating etiology and omitting
an etiologic class, its foundation being essentially clinical features, normal
and pathologic anatomy. While it has many advantages, and shows
the usual careful and profound throught of this distinguished derma­
tologist, the elimination of the long-recognized and accepted class of
"parasitic diseases" and their transference to the "inflammations''
constitute too great an overthrow of established usage for the wisdom
of this plan to gain immediate recognition, although, in view of the
prevailing belief that many other cutaneous diseases not included there­
in are due to micro-organisms, the abolition of such a class would seem
to be a necessary logical outcome. It is only too true that a perfectly
satisfactory classification—one that is free from criticism—is, in the
present state of our knowledge, an impossibility, and the "alphabetic"
arrangement adopted by some American and French authors, and for
the present also in use by the American Dermatological Association, is
sufficient evidence of this.
I had long thought to accept the latter plan as an easy way out of
difficulty, and one that has some advantages; but on mature considera­
tion I feel that a classification, although it may be imperfect and in­
consistent in many of its details, yet contains much knowledge and
information that readers and students unconsciously assimilate. The
system here adopted for this purpose is Hebra's system, which, I believe,
with its modifications by Crocker, of placing, for more convenient
reference, the diseases of the appendages in one class, and with the
further slight modifications by Morrow, still constitutes, in spite of its
inconsistencies, the most practical one. The propriety of transferring
some diseases from one section to another upon the basis of more recent
clinical observations and pathologic investigation, has occurred to me,
and most strongly as regards erythema induratum scrofulosorum, lichen
scrofulosus, lupus erythematosus, etc., about which there is a growing
belief, in which I share, that we have to do with affections due either
directly or indirectly to the tubercle bacillus, and if so, properly classi­
fiable among the tuberculoses of the skin; but the evidence is not yet suffi­
ciently conclusive to warrant such transference without some risk that the
change may not be a permanent one. Rearrangement, it seems to me,
should be only upon the basis of at least tolerably assured certainty.
I have, therefore, made but a few, and these immaterial, changes, more
especially in the grouping and order of consideration of the diseases in a
few of the classes, and have added a supplementary chapter for the
brief presentation of a few diseases of the adjoining mucous membranes.
Class I.—HYPEREMIAS
Essential Character.

1 Duhring, Jour. Cutan. Dis., 1898, p. 97; and Cutaneous Medicine, part ii, p.223.
---
138 CLASSIFICATION
Class II.—INFLAMMATIONS
Predominant Clinical Characters.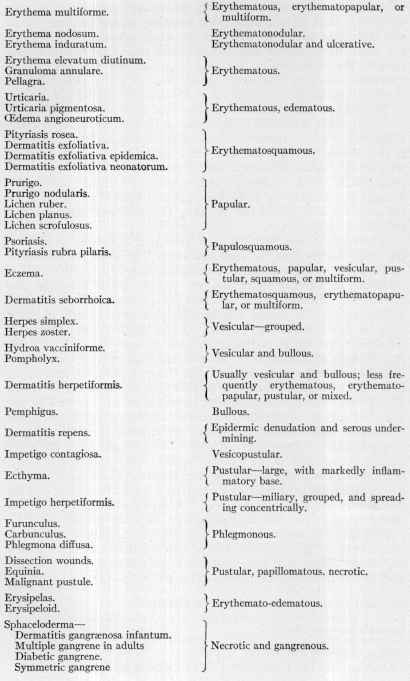 ---
CLASSIFICATION 139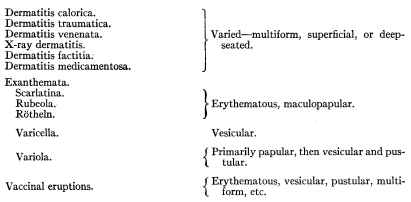 Class III—HEMORRHAGES
Essential Character.
Purpura. Blood extravasation.
Class IV—HYPERTROPHIES
Predominant Feature.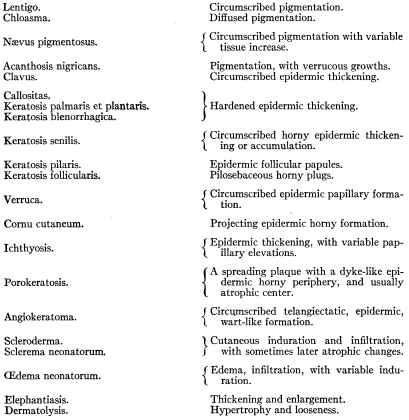 ---
140 CLASSIFICA TION
Class V—ATROPHIES
Prominent Characters.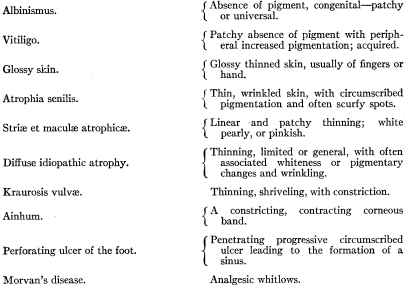 Class VI.—NEW GROWTHS
General Character.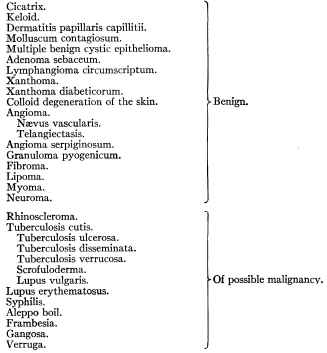 ---
CLASSIFICATION 141

Class VII.—NEUROSES
Chief Symptom.
Class VIII.—DISEASES OF THE APPENDAGES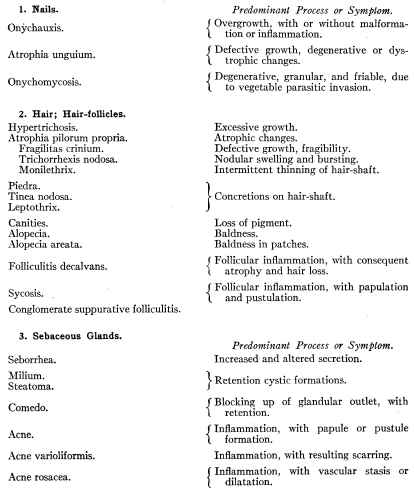 ---
142 CLASSIFICATION
Class IX—PARASITIC AFFECTIONS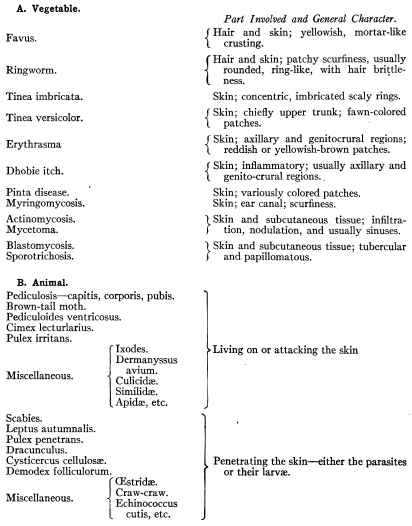 But first, if you want to come back to this web site again, just add it to your bookmarks or favorites now! Then you'll find it easy!
Also, please consider sharing our helpful website with your online friends.
BELOW ARE OUR OTHER HEALTH WEB SITES:

MODERN DAY TREATMENTS FOR TOOTH AND TEETH DISEASE:
Copyright © 2000-present Donald Urquhart. All Rights Reserved. All universal rights reserved. Designated trademarks and brands are the property of their respective owners. Use of this Web site constitutes acceptance of our legal disclaimer. | Contact Us | Privacy Policy | About Us